History of the Club
The origin of the Amy King Dundon-Berchtold University Club at USC, previously named the Faculty Center, dates back to 1928 when the Men's Faculty Club was established. The creation of the Women's Faculty Club soon followed, and in the late 1940s the two groups merged to become "The Faculty Club." The "clubhouse" was located on the fourth floor of the Student Union Building and was furnished with a pool table, some old furniture and "one very comfortable chair."
When Norman Topping became president of USC in the late 1950s, he approached the University Senate (now the Academic Senate) about what was of utmost importance to the faculty.
The Senate made it clear their highest priority was to have a facility "where the faculty and staff could socialize and exchange ideas."
Although there was no budget for the construction of new buildings, Dr. Topping was able to convince the Board of Trustees to fund the construction of a new Faculty Center, designed by the esteemed architect and USC Alum A. Quincy Jones. The striking, light-filled contemporary structure was completed in 1961.
A New Home at King Stoops Hall
Over the years, the USC University Club underwent a number of renovations and expansions to meet the growing membership. In 2012, the University Club moved from a mid-century modern facility to the historic brick-faced King Stoops Hall, a former Los Angeles Public Library. The move provided the club with a more central location on campus and a distinguished setting for the exchange of ideas between colleagues and friends.
Naming Gift: Amy King Dundon-Berchtold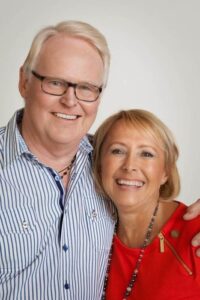 On November 3, 2016, the University Club received $6 million toward the endowment of the USC University Club at King Stoops Hall from real estate investor Amy King Dundon-Berchtold '72.  In recognition of the gift, the club, which is located within the historic library building named for her late mother, Joyce King Stoops EdD '66 and late stepfather, Emery Stoops PhD '41, was renamed to the Amy King Dundon-Berchtold University Club at USC in King Stoops Hall.
Today, the membership has grown to 1,700 plus and the club remains committed to its original mission to provide good food at affordable prices, while continuing to reign as an important campus venue that promotes intellectual, cultural and social interaction among USC faculty and staff.