Upcoming Member Events
If you are interested in attending a Member Event, please Login to our site and RSVP through the Member Events page or email Kristen Todd.
Here are a list of upcoming events. To learn more, click the event or scroll down.
Monday, April 12, 2021 - Midday Recharge with Indra Mukhopadhyay
Time: 12:00pm
Location: University Club
Access: Open to the Public (Free)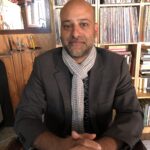 ---
Looking to recharge, connect and learn something new? Join us for our new series where fellow members share some of their expertise, in a short, conversational setting. There will be 15 minutes of conversation, followed by 15 minutes of Q&A. It's almost like you are in line for the buffet together.
---
Indra N. Mukhopadhyay is Associate Professor in the Writing Program, where he teaches upper and lower division writing. He also teaches world literature and world empires courses in the General Education program. His Ph.D. is in Comparative Literature, and his research specializations include comparative colonial studies, with an emphasis on French colonialism in India, South Asian literature and history, European literature and history of the eighteenth and nineteenth centuries, postcolonial philology, and global rhetorics. He is fluent in Bengali and French, and knows some basic Sanskrit. He is an award-winning poet, a published photographer, and a multi-album recorded musician. He is also a backyard winemaker and grower, and a long-time record collector. He will be discussing the essential role of the arts and humanities in daily life, and offer tips for remaining creative and inspired despite the deadlines and other pressures we face in life.
---
Register to attend
Zoom Link
Tuesday, April 20, 2021 - Redefining Our Future: Diversity & Inclusion Vision at USC
Time: 12:00pm
Location: University Club
Access: Open to the Public (Free)
---
Join us for a special session with Dr. Christopher Manning, USC's Chief Diversity and Inclusion Officer in conversation with Miki Turner, Associate Professor at USC Annenberg and University Club Board member. Learn more about Manning's vision for USC and improving the culture. The recording of the event will be available on the University Club blog.
---
Webinar Registration