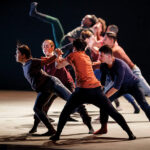 ---
The University Club is proud to partner with USC Visions & Voices to bring you great entertainment and dining options on campus.
Join us this Tuesday for an outstanding dinner and prompt service to ensure you make it to the event on time. We offer a special Prix Fixe dinner menu on Visions & Voices event nights. Call and make your dinner reservations at (213)740-2030.
Tuesday, March 20, 2018 at 7:30 pm
Bovard Auditorium
Los Angeles, CA 90089
ADMISSION:
Admission is free. Reservations required. RSVP beginning Wednesday, February 14, at 9 a.m.
About:
"The top-class dancers are powerful and magnetic . . . [RUBBERBANDance Group] is cool, magnificent, and intense, great entertainment not only for dance fans but for anyone who loves to be excited."—Phindie
Combine the spontaneity, fearlessness, and risk-taking of hip hop with the refinement and choreographic maturity of ballet, and you've got the groundbreaking RUBBERBANDance Group. Artistic director Victor Quijada hails from the hip hop culture of L.A., danced with the legendary choreographer Twyla Tharp, and founded RUBBERBANDance Group to reconcile the opposing aesthetics of street styles and classical dance. The result is an electrifying form of movement you won't want to miss.