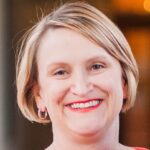 ---
Looking to recharge, connect and learn something new? Join us for an informative session about Genealogy. With insight on home testing, what resources are worth it, and how to track down some of your family's mysteries! There will be 15 minutes of conversation, followed by 15 minutes of Q&A.  RSVP 
---
Bio: Dana Jones
Dana Jones is the genealogist behind Generation Jones Genealogy. She is the only child of only children and she has an only child of her own. I wonder if that's why she became so interested in genealogy?
While researching her own family over the years, she has discovered Revolutionary War Patriots, Civil War soldiers, Huguenots expelled from France, a founder of Bruton Church in Colonial Williamsburg, and early Dutch settlers to New Amsterdam. She also has discovered that a great-grand uncle was violently murdered by his ex-wife, whose sensational murder trial splashed across headlines in two states. Oh, and her grandmother was a teenager when it happened and never told her dad about it!
Of course, her research hasn't all been so salacious. She's also discovered odd names (Sourbeer, anyone?), a great-grandfather who ran for school board (and lost), and her grandparents' marriage license with her grandfather's signature on it. But, with each discovery, she discovers a little bit more—about who she is and where she came from.
Researching the people and stories of her family…and her husband's family…and several good friends' families has been a passion of hers for more than 14 years. She is a graduate of Vanderbilt University with a degree in communication studies.  Presently, she works as a brand and marketing executive in the entertainment industry.  She has completed two certificates in genealogy, a Genealogical Research Certificate from Boston University's Center for Professional Education, as well as a certificate in intermediate research methods from the Salt Lake Institute of Genealogy.
She's a Tennessee girl who has lived in Pasadena, California, for so long that it feels like home. She's the wife of a professional educator, the mother of a California native, and the dog-mom of a rescue Chi-Chon named Waylon Jennings.
She loves to organize (the Container Store is her happy place), read, listen to true-crime podcasts, relax by the pool, spend time with family and friends, and, of course, share her passion for genealogy with the world.
And, she really loves a good puzzle!