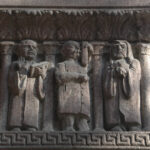 ---
Event will take place in the Carnegie room with appetizers and refreshments.
---
The Amy King Dundon-Berchtold University Club of USC is proud to honor a broad and inclusive set of outstanding researchers—nominated by their academic deans through an annual open call and selected by the University Club's Board of Councilors—whose scholarly works are significant contributions to their respective fields.  Among the featured works displayed are books, cover articles, artwork, artifacts, and prototypes produced by these USC contributors.  This inaugural 2019 class of honorees includes twenty scholars from five participating USC Schools and the College.  Enjoy these scholarly works of our University Club members!
If you are not a member and wish to attend this event,  RSVP here.
| | | |
| --- | --- | --- |
| Name | Title | School |
| Aimee Bender | Distinguished Professor of English | USC Dana and David Dornsife College of Letters, Arts and Sciences |
| Arieh Warshel | Distinguished Professor of Chemistry and Biochemistry | USC Dana and David Dornsife College of Letters, Arts and Sciences |
| Pierrette Hondagneu-Sotelo | Florence Everline Professor of Sociology | USC Dana and David Dornsife College of Letters, Arts and Sciences |
| Ariela Gross | John B. and Alice R. Sharp Professor of Law and History | USC Gould School of Law |
| Edward McCaffery | Robert C. Packard Trustee Chair in Law and Professor of Law, Economics, and Political Science | USC Gould School of Law |
| Orin Kerr | Frances R. and John J. Duggan Distinguished Professor of Law | USC Gould School of Law |
| Caleb Finch | University Professor and ARCO/William F. Kieschnick Professor of the Neurobiology of Aging | USC Leonard Davis School of Gerontology |
| Eileen Crimmins | University Professor and AARP Professor of Gerontology | USC Leonard Davis School of Gerontology |
| Reginald Tucker-Seeley | Edward L. Schneider Assistant Professor of Gerontology | USC Leonard Davis School of Gerontology |
| Deborah MacInnis | Charles L. and Ramona I. Hilliard Professor of Business Administration and Professor of Marketing | USC Marshall School of Business |
| Edward Lawler | Distinguished Professor of Business | USC Marshall School of Business |
| Gerard Tellis | Jerry and Nancy Neely Chair in American Enterprise and Professor of Marketing | USC Marshall School of Business |
| Darnell Cole | Associate Professor of Clinical Education | USC Rossier School of Education |
| Estela Mara Bensimon | Professor of Education and Director, Center for Urban Education | USC Rossier School of Education |
| Shafiqa Ahmadi | Associate Professor of Clinical Education | USC Rossier School of Education |
| Shaun Harper | Provost Professor of Education and Business, and Clifford and Betty Allen Chair in Urban Leadership | USC Rossier School of Education |
| Alejandra Uranga | Assistant Professor of Aerospace and Mechanical Engineering | USC Viterbi School of Engineering |
| Azad Madni | Professor of Astronautical Engineering Practice | USC Viterbi School of Engineering |
| Francisco Valero-Cuevas | Professor of Biomedical Engineering | USC Viterbi School of Engineering |
| Satayandra (S.K.) Gupta | Professor of Aerospace and Mechanical Engineering | USC Viterbi School of Engineering |